If you believe in the importance of ELFEC's mission, you can support our programs and operations through a donation. Our ability to help individuals and congregations grow in generosity is determined, in turn, by the generosity of people like you.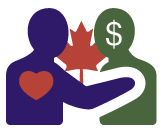 Gift of Securities
To make a current donation of appreciated securities (stocks, bonds or units of mutual funds or income trusts that are traded on a recognized exchange), view the transfer form and instructions.
For general information on the advantages of this type of gift, view an article on the subject.
For information on valuation and receipting of gifts of appreciated securities, please contact Kathryn Smith at our toll-free number, 1-888-308-9461.
Gift of Cash
To make an immediate donation with your credit card, click on the button below. Your donation wil be processed by CanadaHelps, a charity that processes online donations on behalf of other charities. CanadaHelps will provide you with an official donation receipt immediately and send your donation to ELFEC, minus a small administrative fee of 3.9%. ELFEC is proud to be a CanadaHelps partner.
Our Legal Names is: Evangelical Lutheran Foundation of Eastern Canada Charitable and Registration Number: 830771127RR0001
For more information, click here to see the Frequently Asked Questions page on the CanadaHelps.org site.